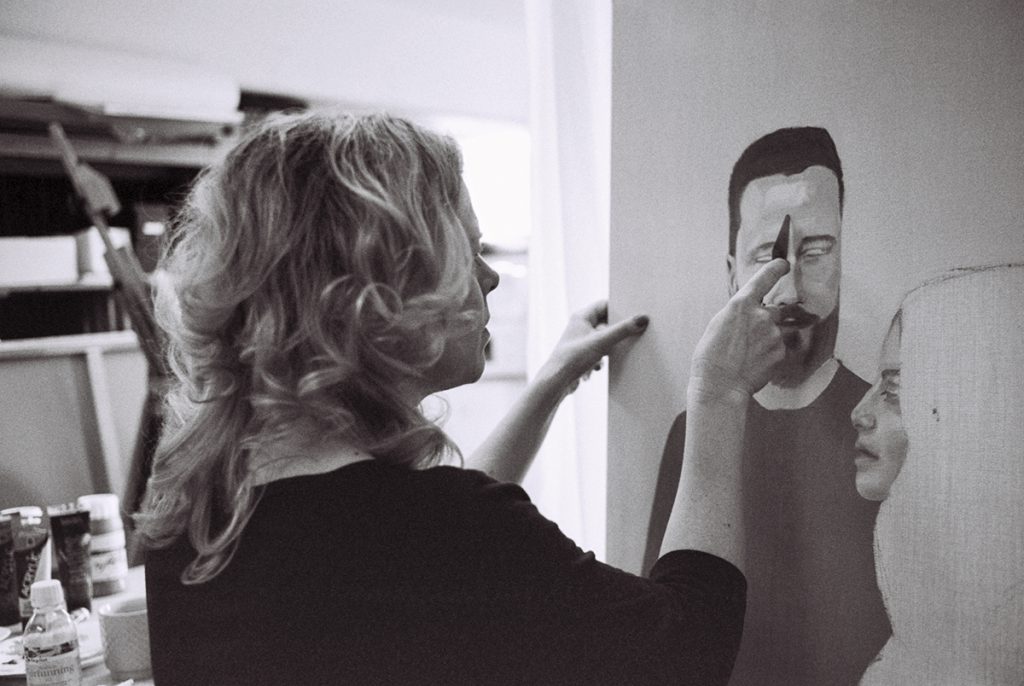 Photo: Mattias Karlsson
I was born in 1978 in Karlstad, Sweden, where I also grew up. I fell in love with France as a teenager, and have since the age of twenty been living between the two countries.
Making art is for me a way of handling the complexity of our existence.
I paint portraits mainly in oil and acrylics, hoping to awaken the viewer's curiosity about the person's inner life, as a reminder that we never know where a person comes from, hence should not judge him/her.
I also make abstract paintings and drawings in acrylic colour or charcoal, creating new worlds where we can wander for a while, and get in touch with our feelings without the limitations of known objects and surroundings.
My artistic education comes mainly from L'atelier des Passerelles in Paris and the Academy of fine arts Kunstgut in Berlin.
Exhibitions:
2017 Julsalongen, Arvika konsthall, Arvika, Sweden
2017 Höstsalongen, Edsvik konsthall, Sollentuna, Sweden
2017 Skaraborgssalongen, Skövde konsthall, Skövde, Sweden
2017 Läsö konstfestival, Läsö, Denmark
2016 Julsalongen, Arvika Konsthall, Arvika, Sweden
2016 Konst i litet format, Galleri K, Karlstad, Sweden
2016 100 LPM Foto, Värmlands museum, Karlstad, Sweden
2016 Höstsalongen, Norra Värmlands Konstförening, Torsby, Sweden
2015 Julsalongen, Arvika Konsthall, Arvika, Sweden
2015 Höstsalongen, Värmlands museum, Karlstad, Sweden
2015 100 LPM Foto, Värmlands museum, Karlstad, Sweden
2015 Läsö konstfestival, Läsö, Denmark
2015 Konst i det gröna, Konstfrämjandet, Karlstad, Sweden
2014 Julsalongen, Konstfrämjandet, Karlstad, Sweden
2014 Höstsalongen, Värmlands museum, Karlstad, Sweden
2014 Karlstads konstigaste konstfest, Karlstad, Sweden
2010 Höstsalongen, Rackstadmuséet, Arvika, Sweden
Member of:
KKV – Konstnärernas Kollektivverkstad Värmland
BUS
Värmlands konstförening
Contact:
For price list, commissions or other inquiries, please write to:
art@jenniedahlen.com